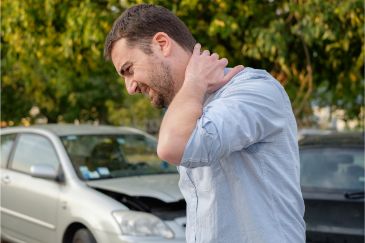 Back and spinal cord injuries can result from a wide variety of causes, the most common of which include motor vehicle crashes, slip and falls, construction accidents, and muscle tears. Many back injuries become chronic problems, meaning the victim may require lifelong medical and therapeutic care. After the first injury, the back is also more susceptible to be re-injured than other parts of the body.
At Salter, Healy, Bassett & Rivera, our experienced St. Petersburg attorneys help all clients who are seeking compensation for spinal injuries. If your neck/spinal cord injury was caused due to someone else's negligence, contact our office today to learn how we can help.
Get Our FREE Personal Injury Guide
Compensation for Spinal Injuries | Recovering Damages
When you suffer a spinal injury and are swamped by medical bills, our dedicated team is here to provide relief. We have a passion for trial law, and whether your case goes to trial or not, we have the ability to secure high levels of compensation for:
Medical care. We seek compensation to cover the costs of your medical bills.
Rehabilitation. Many people who suffer back injuries undergo physical therapy. We obtain compensation to cover fees for therapy.
Loss of wages. To compensate you for the time you miss from work, we seek damages to cover you lost wages and earning capacity.
Vehicle repairs. If your vehicle is salvageable, we seek coverage for the repairs it needs.
Pain and suffering. We obtain damages to compensate you for your pain and suffering.
Punitive damages. If your accident was caused by a drunk driver or someone who was on drugs, we will ask the court for punitive damages to punish the person for their actions.
Compensation for Spinal Injuries | Contact Our Office Today
At Salter, Healy, Bassett & Rivera, the courtroom is our home, and our clients are our greatest passion. Contact our St. Petersburg spinal injury lawyers today to arrange a free consultation. If you can't get to our offices, we will come to you. Other lawyers might say that they go to trial, but we pride ourselves on being true trial lawyers, which makes a major difference in results. Trust our experience and skills to win you the compensation you deserve.