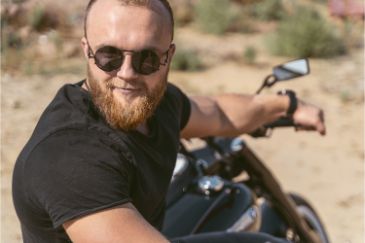 Motorcycle crashes, on average, are usually caused by other negligent drivers on the road and not the motorcycle driver themselves. However, when filing a motorcycle accident claim, there tends to be an unfair bias against motorcyclists. With the right lawyer, you can obtain full and fair compensation for your injuries even if the insurance company tries to paint you as the villain. Here are three things you should know about motorcycle accident claims in Florida.
1) Never Accept the First Settlement Offer
When an insurance company first offers you a settlement for your injuries, it is typically far below what your damages are worth. This is the insurance company trying to save money. After all, they are a business with one goal in mind: making money. This means that they are not looking to pay out full compensation. You need an experienced lawyer who can take them to trial to obtain the financial recovery you deserve.
Get Our FREE Motorcycle Accident Guide
2) Don't Give a Recorded Statement to the Insurance Company
Make sure that you call an attorney before you speak with an insurance representative. Insurance representatives are highly trained, and their job is to make sure that they minimize what they pay to injured people in motorcycle accidents. They can do that in a simple conversation that happens the day of the accident by asking you questions that they'll use against you as the case continues. Don't let that happen. Call an attorney first, so that the attorney can deal with the insurance companies.
3) Going to Trial will Increase Your Chances at Recovering High Compensation
Trials are stressful, which is why clients typically want to avoid them. However, if the insurance company is being unreasonable in their settlement offers, then going to trial is your best bet at receiving full and fair compensation. An experienced trial attorney will make sure you are prepared for trial so that you have nothing to worry about. If the insurance company isn't doing the right thing, then we will make sure the jury does.
Contact a St. Petersburg Motorcycle Accident Attorney Today
If you are seeking compensation for your injuries, please do not hesitate to call our experienced St. Petersburg motorcycle accident attorneys to set up a free consultation. We will go over the details of your case and let you know what your legal options are as well as what your next step should be. We want to make sure you have the best chance at full compensation.