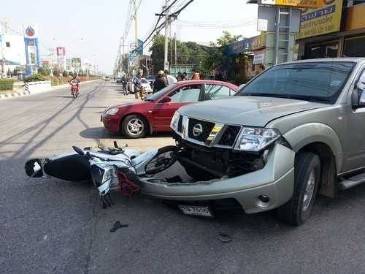 Are you seeking motorcycle accident compensation in Florida? While the worst may be over, the road ahead is still long and arduous. We want to be there with you every step of the way. Our experienced, award-winning trial attorneys will stop at nothing until you are fully compensated for your injuries. Contact our office today to schedule a free consultation.
Motorcycle Accident Compensation in Florida | Comparative Negligence
Florida is a pure comparative negligence state. That means you can receive compensation even if the insurance company were to blame part of the accident on you. Florida is more lenient with their cutoff for compensation. You will be barred from receiving an award if you are deemed 100%. For any other percentage, you will be able to get an award, but it will be reduced. For example, if you are deemed 10% at fault for your accident because you were speeding, and you were awarded $100,000 for your damages, it will be reduced to $80,000 to account for your role in causing the accident. We work very hard to keep you from getting pinned for any of the blame so that you get full and fair compensation.
Get Our FREE Motorcycle Accident Guide
Motorcycle Accident Compensation in Florida | Recoverable Damages
Throughout your case, our top priority is providing you with the care you need. Whether your case goes to trial or not, we are determined to obtain compensation such as:
Medical coverage. After your accident, you need extensive medical attention. We seek compensation for your medical bills.
Vehicle compensation. We attain compensation for repairs to or the loss of your motorcycle.
Pain and suffering. We obtain damages to compensate you for your pain and suffering.
Punitive Damages. If your accident was caused by a drunk driver or someone who was on drugs, we will ask the court for punitive damages to punish the person for their actions.
Lost wages. We seek compensation for the wages you lose when you are off from work after your accident.
Motorcycle Accident Compensation in Florida | Statute of Limitations
You have four years from the date of your accident to bring your motorcycle accident claim. If you wait longer than four years, you will be barred from receiving compensation. It is better to talk to an attorney early on so that you do not have to worry about that. You also have the added benefit of having your witnesses' memories be fresher and your evidence less likely to disappear. Giving your attorney time to build you a strong case makes it more likely that you will get the compensation you deserve.
If you are seeking compensation for your injuries, please do not hesitate to call our experienced St. Petersburg motorcycle accident attorneys to set up a free consultation. We will go over the details of your case and let you know what your legal options are as well as what your next step should be. We want to make sure you have the best chance at full compensation.