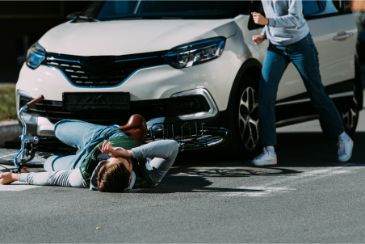 When filing a personal injury claim, you will want to be sure that you take all the right steps and necessary precautions to make sure your rights are protected. There are a few things — such as speaking to the at-fault party's insurance company — that could severely hurt your claim. In this article, we will discuss the common mistakes to avoid in a bicycle accident claim. For more information, contact the experienced attorneys at Salter, Healy, Rivera to schedule a free consultation.
Get Our FREE Bicycle Accident Guide
Common Mistakes to Avoid in a Bicycle Accident Claim | Seek Medical Treatment
If you're in a bicycle accident, the first thing you need to do is make sure that you call law enforcement and document the scene and what happened in the accident. The next thing you need to do, when you leave the scene of the accident, is get medical care immediately. That could be via ambulance, an emergency room, at a walk-in clinic, or other appropriate medical professional, but you can't wait a period of days or weeks. You want to get immediate medical care, because that's going to make a big difference in proving your case.
Common Mistakes to Avoid in a Bicycle Accident Claim | Don't Speak to the Insurance Company
The other thing that you need to do is make sure that you do not call anyone at any insurance company or speak with them if they call you. People often feel like that's something they need to do. The insurance professionals are trained to ask questions in a way that will minimize your claim going forward. You need an attorney to handle those conversations for you, someone who understands what needs to be done and what information does and does not need to be provided to the insurance company at that time.
Contact Our Experienced Attorneys Today
If you want a strong, dedicated, and experienced St. Petersburg bicycle accident attorneys, please do not hesitate to call our office today to set up a free consultation. We will put your case a priority and make sure we do not give up until we have the best possible result for you. Call us today to get the ball rolling on your bike accident claim.