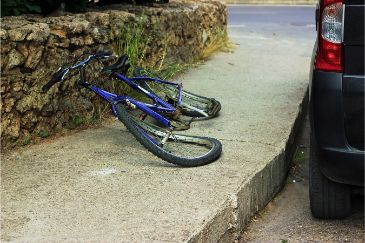 If you've come to this page, you probably have been injured in a bicycle accident. It's only natural to have questions about what comes next, especially considering that this is most likely the first time you have ever experienced something like this. Here are 3 questions about bicycle accident cases that our experienced St. Petersburg personal injury trial attorneys receive on a regular basis from our clients.
Get Our FREE Bicycle Accident Guide
3 Questions About Bicycle Accident Cases | How Do I Obtain Maximum Compensation?
Luckily for some people, in Florida, you can receive compensation for your injuries even if you are deemed to be mostly at fault for causing the accident. You could have swerved into the road and gotten hit and still receive an award. The downside with this is that it is not without consequence. If you share any fault, you will have a reduced award. For example, if you were to be deemed as 10% at fault for causing the accident, you will have to have your award reduced be 10%. Let's say you were awarded $10,000. You would be able to collect $9,000. If you are deemed 100% at fault for causing the accident, then you will be barred from receiving compensation. Our goal is to prevent you from being blamed for causing the accident.
3 Questions About Bicycle Accident Cases | How Long Do I Have to File a Claim?
If you want to ensure that your case is going to have the best possible chance of success, you need to make sure that you get everything done on time. Florida law states that you need to have filed your claim or settled it in civil court within four years from the date of your bike accident. That means if you wait four years and a day to try to file a claim, you will be barred from receiving compensation altogether. You'll want to ask quick after your accident so that you don't risk losing precious evidence and witness statements. The sooner you get an attorney, the better off you will be.
3 Questions About Bicycle Accident Cases | How Much Is My Claim Worth?
This is difficult to answer at the beginning of the case, but there are factors that we'll be looking at to make sure we prove your case and help you understand what the value of your bicycle accident case is. The first is the medical care that you obtained. What types of doctors did you go to? What was the cost of that care? What injuries did those doctors determine you had? We'll make sure that you go to an appropriate medical professional who will take MRIs, x-rays, and provide treatment that will help you to get better. Also, we'll document those injuries so we can provide that information to the insurance company and the defense lawyers. We'll obtain the medical bills, so that we know what the cost of that care was, to make sure that those medical bills are taken care of.
Finally, we look at how this accident has affected interactions with family, and the activities that you like to do together. That's an important damage, although difficult to value, because it's the loss of enjoyment of life.
Contact Our St. Petersburg Bicycle Accident Attorneys Today
If you have been seriously injured while riding a bike, it is important that you speak to our experienced St. Petersburg bicycle accident attorneys as soon as possible. Contact our office today to schedule a free consultation.