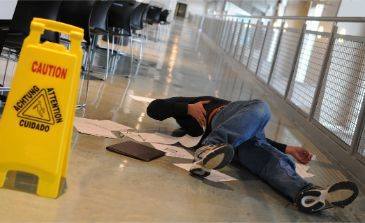 You're walking down an aisle in a grocery store and you don't happen to see the wet floor sign. You trip and fall on your back, but you get right back up. You're a little sore the next day, but nothing serious. You're probably asking yourself, "Do I have a slip and fall claim?"
Clients come into our office all the time asking the same questions after they have been involved in a scenario like this. Even if you didn't incur a lot of medical expenses after your accident, you are still eligible to receive compensation. However, it takes a skilled and knowledgeable attorney to work the case and maximize your available compensation. Contact our office today to schedule a free consultation.
Download Our FREE Slip and Fall Guide
Do I Have a Slip and Fall Claim? | Minimal Medical Bills
Recently, someone gave us a call regarding a slip and fall accident, and they were concerned that they weren't able to present a claim, because they didn't have very many medical bills. That simply is not true. The first question that I ask any potential client is, "Have you fully recovered from your injuries?" More often than not, they need further treatment. We make sure that they get the treatment that they need for their injuries. Once they're done with their treatment, that's when we can start negotiating on a case.
Do I Have a Slip and Fall Claim? | Case Value
There are a number of factors that are important in determining a slip and fall case value. One of them is how the accident happened. This is discovered through an extensive interview with our attorneys to determine what happened and how we can prove that it was the fault of the store or residence where the accident took place.
In evaluating the value of your case, we must look at what the injuries are, what care was obtained and what the cost of that care was. If you've had therapy, injections, or surgery, those are all important factors to consider. It's important to consider, as well, what you will need in the future because of your injuries. Will you need additional treatment? We'll work with highly qualified doctors who can evaluate your injury, look at the appropriate studies, and offer opinions about what you're going to need in the future, so that we can make that claim on your behalf to the insurance company or in front of a jury trial.
The other thing that's important when determining the value of the case is if the person missed work. Are there out-of-pocket lost wages, and are they going to miss work in the future? Are these injuries going to be with them forever? We will document those with appropriate experts who can put a dollar figure on those losses and present them to the insurance company.
Do I Have a Slip and Fall Claim? | Contact Our Office Today
If you have been seriously hurt in a slip and fall, please do not hesitate to reach out to our St. Petersburg slip and fall lawyers today to set up your free case evaluation. Your case is important to us and we want to ensure you will be getting the best possible compensation award. We are here to answer your questions, guide you through the legal battle, and safeguard your right to full and fair compensation. We have handled many cases just like yours and are eager to take your call.